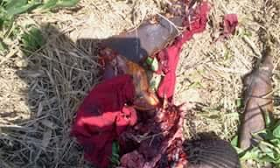 Two suspected female suicide bombers were yesterday shot dead by soldiers as they attempted to attack a military base in Gwoza, Borno state.
A statement issued by the Acting Director Army Public Relation, Sani Usman, said the Nigerian troops in Gwoza on Thursday thwarted what could have been a "catastrophe".
Mr. Usman said the troops killed the two women, out of three advancing female suicide bombers at about half past noon.
As they opened fire, the suicide bombers' improvised explosive devices went off in deafening explosion at a safe distance that only caused a soldier some minor injuries from flying shrapnel.
"The suicide bombers, who came through Pulka axis, were sighted by members of vigilante from a distance and alerted the troops about the impending catastrophe," said the army spokesman. Please the photos below can be disturbing, don't open if you don't like seeing blood.