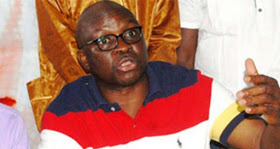 Speaking through his Special Assistant on Public Communications and New Media, Lere Olayinka, the Ekiti State Governor, Ayodele Fayose has asked APC as a whole to stop humiliating one of its National leaders, Asiwaju Bola Tinubiu saying it is a slap on Yoruba race and as a matter of fact, it is insulting the entire race too. He said;
"Even though I am not a member of the APC and I will never be, I have elected to stand in defence of the Yoruba nation once again by saying no to the continuous dishonourable treatment being meted out to Asiwaju Bola Tinubu, having paid his dues.
"If Tinubu is allowed to be embarrassed and disgraced, just the way our past leaders were humiliated by these same elements, the Yoruba nation would have been made to suffer for uprightness."
"It is unfortunate that Tinubu is now being vilified in a party he invested heavily in, and his fellow kinsmen that he brought up politically are part of this conspiracy.
"In their desperation, they have even tried to set him against the Vice President, Prof. Yemi Osinbajo, by insinuating that he tried to prevent his (Osinbajo's) emergence as President Mohammadu Buhari's running mate; this is sad.
"When other tribes protect their own people; it is becoming historically common among the Yoruba people to allow themselves to be used against their leaders just for momentary political gains at the expense of the collective interest of the Yoruba nation.
"It should be noted that the late Chief Obafemi Awolowo was sent to jail by the conspiracy and collaboration of some Yoruba people with the external aggressors."
He further said Tinubu was a prominent stakeholder and should not be humiliated.
"Most importantly, it is my position that irrespective of political affiliation, no leader of the Yoruba nation must be vilified unduly, especially by the same people who humiliated our past leaders like Obafemi Awolowo, Adekunle Ajasin, Bola Ige, Bisi Onabanjo, Lateef Jakande and others.
"To me, Asiwaju Bola Tinubu should not just be seen as an APC leader, but acknowledged as a major stakeholder in the Yoruba nation that we must all protect beyond politics.
"It should be recalled that these were among the issues that I raised when I visited Governor Rauf Aregbesola of Osun State few months ago on the need to work together beyond party affiliations.
"Here in Yorubaland, it is said that if a household is at peace, it is because the bastard child of the family has yet to attain the age of maturity and those people that Asiwaju Tinubu made, but are now being used against him should watch it.
"I therefore condemn this conspiracy against Asiwaju Tinubu and I admonish those that are hoping to make political benefits from it to have a rethink."