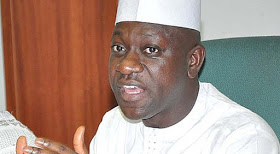 According to Punch a combined team of security operatives yesterday stormed the office of the suspended former Chairman of the Appropriations Committee of the House of Representatives, Abdulmumin Jibrin, at the National Assembly Complex.
The security team, which was made up of policemen and members of the Sergeant-at-Arms (the internal security arm of the National Assembly), stormed the office at 2.07pm and left at about 3.10pm.
There was no sign of the embattled lawmaker but a handful of members of his staff were seen putting together what was believed to be some of his personal effects. The security officials went away with some documents.