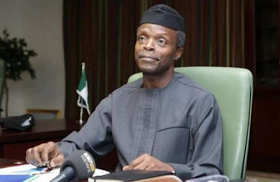 According to a statement by the Senior Special Assistant on Media and Publicity, Mr. Laolu Akande, to the Vice-President of Nigeria, Prof. Yemi Osinbajo, teh statement states that, the Vice-President while receiving a delegation of Christian Ministers Welfare Initiative also known as the Pastors' Forum, Taraba State, at the Presidential Villa yesterday said it is insane for anyone in their position to be looking for money while in power.
"This morning, I had a meeting with the President and he repeated to me twice, he said 'at my age, there is only one thing I am looking for, I want to see a great Nigeria.' He has no other objective and I feel very inspired by that," Osinbajo told his guests.
He continued saying, "It is madness for anybody in our position to be looking for money. According to him, God put people in a position of authority for them to be able to do something for their people. I think if any Nigerian gets the chance to be President of the country, there is nothing he/she is looking for anymore, except that, while there, you improve the lot of the people."