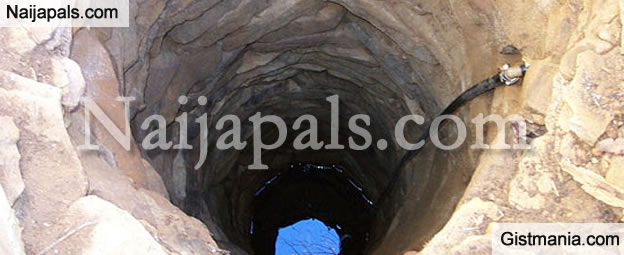 A newly-wed plumber, Emeka Okpala, has drowned while installing a pumping machine in a well on Oladogba Street in the Ikosi-Ketu area of Lagos State.
PUNCH Metro gathered that 40-year-old Okpala was not the one originally contracted for the job, but after the first plumber declined, the victim decided to take up the job.
He was said to be descending the well when he fell and died.
When their correspondent visited the scene, a resident, Bilikisu Idris, said she got to know about the incident around 3pm, adding that the victim died because the person who contracted him to do the job
did not raise the alarm on time.
She said:
"Emeka (Okpala) was a very popular man on this street. He used to drive a BMW car, which he brought yesterday (Wednesday) to do the work. He was into all kinds of jobs and was very hardworking. He recently got wedded.
"The owner of the well wanted to install a submersible pumping machine. Those who were asked to do the job turned it down and said the well was old. When he was called, Emeka said he could do it since it was not his first time.
"He tied a rope to a generator and was descending the well when the generator fell on him in the well. He was crushed." A woman in the house, after discovering what had happened, went to call his relatives.
She was also said to have later alerted officials of the fire service.
Another resident, Kunle Odunubi, said it took a long time before the victim could get help.
She said:
"The firefighters brought him out of the well and took him in a car en route to a hospital. But by the time they got to Ketu, the man had given up the ghost. If somebody had raised the alarm early enough, maybe this would not have happened."
The Director of the Lagos State Fire Service, Rasak Fadipe, confirmed the incident, adding that the corpse was handed over to policemen from the Alapere division who deposited it in a morgue.
He said:
"Okpala wanted to install a pumping machine in the well when he got trapped. We received a distress call and the Alausa fire station responded. One of our fire officers, Salau, who led the rescue operation, recovered him dead.
"The corpse was handed over to the police from the Alapere division."
Fadipe, who expressed anger at the incident, appealed to residents who wished to work on their wells, to seek the assistance of the agency.